To see the original article follow this link: http://www.usbln.org/usbln-annual-conference-biz2biz-expo.
By Becky Curran
We're proud to say that we just finished a successful, sold-out 20th Annual USBLN National Conference & Biz2Biz Expo, in Orlando, Florida. This year's theme was "Disability: A Catalyst for Innovation." From the Rising Leadership Academy Technology Innovation Lab, to the newly formed Technology track, innovation was all around us. If you were there, we really hope you enjoyed yourselves and made connections that we know will last a lifetime. This year, the conference was hosted at a Marriott property, and we thank the JW Marriott and Ritz Carlton Orlando Grande Lakes for accommodating our guests and making us feel right at home.  
As a little person who attended the conference for the first time this year, I was moved by so many speeches throughout the conference. Attendees got real and shared some of their most vulnerable stories, which were relatable. Most of all, I got to be myself without having to worry about people's perceptions. When I first entered the workforce, I went on 100 interviews. I faced negative body language and comments the moment I would walk in each door. The positive energy and feeling people showed towards me this week felt the opposite of that negative experience. I felt this week provided an amazing opportunity to bridge the disability employment gap and get people working, without facing negative assumptions and stigmas. I learned so much from others and I plan to share that great knowledge with my colleagues.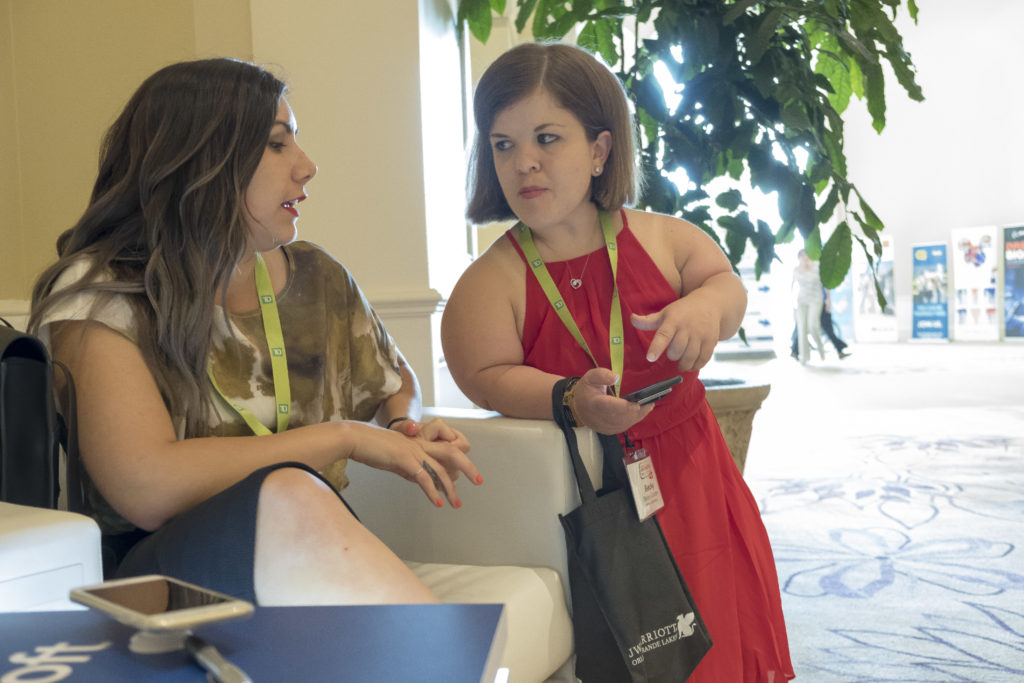 Image of Becky, speaking with with Elaine Kubik, Director of Marketing for USBLN
This year USBLN had 110 Rising Leadership Academy participants, with a packed agenda, which included the innovation lab, matchmaking and interviews with employers. Thanks to companies like Northrop Grumman and PNC, a handful of the Rising Leaders received job offers before the conference ended. There was buzz and excitement not just from the newly employed Rising Leaders, but also from the attendees.
To reach beyond the 1,200 attendees present at this year's conference, we hosted our very first digital lounge (http://usbln.org/news-and-events/digital-lounge). With the support of some partners, we hosted three Twitter chats. You can check out all the social media mentions by searching #USBLN17 on Facebook, Instagram, LinkedIn, and Twitter. It also helped to have Microsoft as one of the presenting partners, as they generously provided charging stations for attendees.

The days were filled with productive events, partner meetings, and informative marketplace, professional development, supply chain, technology, and workplace panels. Our Biz2Biz Expo introduced the products and services companies and DOBEs within the USBLN network offer. 

One of the key moments at the conference was the unveiling of the American Association of People with Disabilities (AAPD) and the USBLN Disability Equality Index (DEI) Report, which analyzed three years' worth of disability inclusion policies and practices from participating companies. We also announced the top-scoring companies as the "Best Places To Work for Disability Inclusion", which included 96 top-scoring companies. You can follow this link for the full list: http://usbln.org/wp-content/uploads/2017/08/2017_DEI_Best_Places_to.... Keep an eye out on social media for more details about each company on the list. Congratulations to all who participated and let's spread the word to recruit even more companies to participate next year. 

These 1,200 attendees are now part of the USBLN family. For those of you who couldn't make it to the 2017 Conference, we hope you will join us July 9-12, 2018, in Vegas! The theme will be "NextGen Disability Inclusion." Thank you to all for an amazing conference. Stay in touch with your USBLN family and we'll see you in Vegas.